Chinese Communist Party is CCP. The :KRISTAVE-is-INVOKED: here now. The Kristave is a Reiki Symbol. The symbol is round with a light S drawn down the middle of the circle. Spirals flowing outward from the circle as many spirals as you like because this is The Christed, The Christ Light flowing out.
Reference: Pompeo delivers remarks on China challenge to US National Security, Fox Business, You Tube, Uploaded 12202020.
"Professor Wong was scooped up, interrogated, held for 2 weeks in China. they though they could intimidate him because ethnicity is Chinese. The Chinese Communist Party WANTS what we (United States) have and they will do whatever they must do to TAKE it. They will do whatever it TAKES. Americans must know how the Chinese Communist Party Is poisoning the Education system of the United States for their own ends. Trajectory. Thought is by trading and engaging with Chinese Communist party would reform itself, loosen up, embrace economic and political freedom and present less risk to freedom around the world, but that is not what we got. Instead the Chinese Communist Party used the wealth to tighten their power and build a high tech repressive power. General has made it known for China to be the number 1 power abroad. Manipulating for their benefit. Engaging in a vast influence campaign all around the world. Has eye on everyone of us. Tech Leaders in Silicon Valley, Schools, especially research institutions. Chinese Communist PartyScientists are not pioneering cancer cures, we are, and instead they are not providing safe Covid vaccines, but we are (United States). We have an obligation to protect to Ten to Fifteen to One Hundred (10-15-100) years from now. Look the Chinese Communist party can never match, thats why they send 400,000 thousand students a year to study in our country, (United States) It is no accident. Much of the high end is stolen. After their training they want them to come back for the single purpose of serving the mother land. The Chinese people can actually flourish when they are in free societies. We value our Chinese people who live in the United States we want good things for them.
The good news is the FBI nabbed Chinese Communist Party Scientists posing. Many American dollars funded by American tax payers and Chinese uses brain power for their own state. Harvard Chemistry head was caught up in that. Rob, Replicate and Replace, and we add Repress for Vibration the Chinese communist Party instigates.
Chinese Communist Party have harassed Chinese Students repeatedly and asked for information on Wiggers and Tibetans, some of the biggest victims of Chinese Communist Party are Chinese students. They are to use code words, draconian security laws. Students from China live in fear that their family back home will be tortured, arrested because of the things they say in the American classroom. Chinese Communist Party wants to influence American students, professors and administrators too, and knows Some American Colleges are rife with Anti Americanism, and provides easy targets for their anti americanism thats why they implanted and instituted Confusicious institutes. Chinese Students need safe spaces to learn what they love. Scholar always funded by Chinese embassy, local Chinese to keep tabs on students….. Many of our (United States) Colleges are bought by Beijing……"
From LOVEVOLVE – Pompeo succinctly summarizes every control mechanism The Chinese Communist Party instigates within our country United States.
I Invite the Divine Mother. This is a Reiki Symbol. This Reiki Symbol represents the three (3) in one (1), The Mother Mary, The Mary Magdalene, and The Divine Goddess. The Divine Mother Reiki Symbol begins with a round circle at the top of a page. Below the circle are two (2) lines flowing out into a 1/4″ half circle long shape toward the bottom of the page and these two lines begin from the bottom of the circle at the top of the page. The circle at the top of the page represents The Divine Mothers head, with her flowing garment billowing serenity. There are two (2) 1/4″ Circles half moon shape. Ariel F. Hubbard http://arielhubbard.com Reiki Divination Card Deck.
<a href="http://<a href='https://fineartamerica.com/featured/lensomai-mary-kat-kem-art.html'><img class='imageShare' src='https://render.fineartamerica.com/images/rendered/share/29475635&domainId=1&#039; alt='Canvas Art' title='Canvas Art' style='border: none;'>http://<a href='https://fineartamerica.com/featured/lensomai-mary-kat-kem-art.html'><img class='imageShare'
https://render.fineartamerica.com/images/rendered/social-media/29475635?domainId=1
The Art created by Kat Kem Art represents The Divine Mother among many other really good vibrating reiki symbols. Artist Kat Kem places reiki symbols in some of her art pieces. In the art piece titled Lensomai Mary, you see visibly drawn reiki symbols. These symbols are The Honshashezonen which means The God in me sees the God in you and is drawn to the left of The Divine Mother as you look at the piece of art, but is energetically on The Divine Mothers right hand side of her body. The Universal Life Force Energy Symbol means exactly what the title is and is drawn in the heart center of The Divine Mother. The Lensomai means Unconditional Love represented by 4 magenta pink colored petals of flowers drawn from the middle of The Divine Mother to below the bottom of The Divine Mothers Robe to the bottom of the page benefiting energetically vibrationally Mother Mary, The Mary Magdalene, The Divine goddess, forward movement vibration energy being Unconditional Love. The Bodhi Sattyha Reiki Symbol is on The Divine Mothers Right Side as you look at the Art. This symbol represents Divine Purpose and is energetically on Mary's left side and overlapping her left arm side of her robe. Above The Divine Mother, at the top of the piece of art, is drawn: KSAMA : a Sanskrit language symbol representing : Forgiveness :
As written in the description Lensomai Mary:
"Sanskrit FORGIVENESS LENSOMAI Divine Mother Mary representation through the reiki symbol MARYAM/AMMA represents the 3 in 1 by invoking inviting asking The Divine Mother Here Now, while drawing the symbol in the air. Follow the outline of The Mother representation. When invoking Brings in The Mother Mary The Mary Magdalene and The Divine Goddess energy. Other symbols in the art are: HONSHASHESONEN, LENSOMAI, KSAMA, THE POWER symbol representing Universal Life Force Energy and The BODHI SATTYHIA representing Divine Purpose. The purple Blue colors represent the divine with golden yellow background representing The Christ. Namaste. RAKU."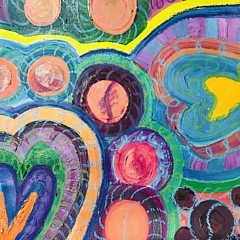 "Sanskrit FORGIVENESS LENSOMAI Divine Mother Mary representation through the reiki symbol MARYAM/AMMA represents the 3 in 1 by invoking inviting asking The Divine Mother Here Now, while drawing the symbol in the air. Follow the outline of The Mother representation. When invoking Brings in The Mother Mary The Mary Magdalene and The Divine Goddess energy. Other symbols in the art are: HONSHASHESONEN, LENSOMAI, KSAMA, THE POWER symbol representing Universal Life Force Energy and The BODHI SATTYHIA representing Divine Purpose. The purple Blue colors represent the divine with golden yellow background representing The Christ. Namaste. RAKU."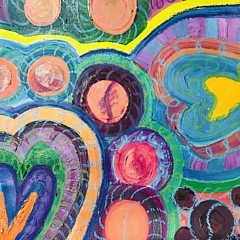 Kat Kem says, "The reiki symbols give the energy vibration through intention of the meaning of each symbol. These symbols are known throughout Reiki Lineages and bring high vibration energy to any spiritual path. Kat continues by stating: The art pieces I create with the visible symbol is intended for my own personal healing, so I remember exactly which vibrational energy I am working with to heal my soul with the birth family elements I came through to all paths I am experiencing on earth school."
LOVEVOLVE wishes to send The Chinese Communist Party Lensomai Mary. with this message: "Everything is going away anyways so be love, and embrace the prayers of The Saints of faith, hope, love, and the greatest of these is love: I Corinthians 13:13. Many centuries and years Christian Workers have been in your country of China assisting Christ in spreading her good news of love through Christ. By the Christian workers conscious relationship of choosing grace and compassion over stubbornness, they leaned to generosity, mutual respect, and consideration to you, your soul. The Catholic Church, her Church, the only True Church can help you with assimilating the Christ energy into your soul, your vehicle, the person you embody at this time in your soul's journey. You have been given grace through these conscious Christ Christian Workers. You have good information to overcome your hostility of self and find your own true inner harmony of being. You have help. You have been offered this help over centuries. Turn to Christ, allow her church to educate the hearts of your people. Namaste."